Father Anthony McSweeney breaks down over porn collection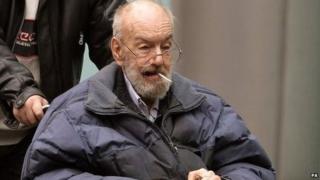 A Catholic priest broke down in tears at his sex abuse trial as he recalled his gay and sadomasochistic pornography collection.
Father Anthony McSweeney, 68, denies molesting three teenage boys at Grafton Close children's home in Hounslow, west London, between 1979 and 1981.
But he admitted being shown a child sex porn film by his close friend, the care home manager John Stingemore.
Fr McSweeney said he did not tell the police as it "did not occur" to him.
He also confessed to going to Amsterdam's notorious red light district with Mr Stingemore, where he bought gay porn.
Mr Stingemore, 72, was found dead weeks before the beginning of his trial.
The priest became emotional as he told how his secret pornography collection was discovered by his cleaner at his parish, St Peter's in Leigh-on-Sea, Essex in 1998. She alerted church authorities.
'Alarm bells'
Fr McSweeney was threatened with being "banished" from the priesthood, but after about six months was moved to another parish in Norwich.
The priest, who is gay, said he was "ashamed" at his porn collection but just could not quit his porn habit.
Years later police found seven indecent images of boys on his laptop.
The former Scout leader regularly visited Grafton Close children's home, run by his friend Mr Stingemore, but denied abusing teenagers there.
He admitted being shown a child porn clip by Mr Stingemore but said no "alarm bells" rang and he did not alert the authorities.
Stephen Spence, defending, asked him: "Did it concern you that a man who ran a children's home might have a sexual interest in children?"
He replied: "Then, no. It didn't occur to me, I can't answer why. I suppose I was a bit surprised, a bit shocked and I just got rid of it."
"I just blanked it out, I guess. I didn't give it any more thought. I'm desperately ashamed."
The trial continues.