Bromley Council pulls out of Crystal Palace rebuild talks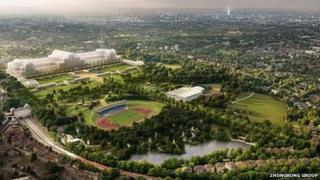 Plans for a replica Crystal Palace have suffered a set back after a south London council pulled out of negotiations with a Chinese developer.
ZhongRong Group wants to rebuild Crystal Palace, which burnt down in 1936, but has failed to meet a deadline set by the council to produce plans.
Bromley Council says it is not extending its "exclusivity agreement".
The council has been concerned by slow progress on the project, which was backed by London Mayor Boris Johnson.
The developers had promised to recreate the palace and build a cultural and entertainment complex in Crystal Palace Park.
In a statement, Bromley Council said the 16-month agreement had lapsed, and would not be renewed.
Council leader Stephen Carr said the plans were still a "major opportunity" to improve the park and provide "much needed regeneration" locally.
"This was why we were prepared to properly listen to what ZhongRong had to say but we were never going to simply say yes to absolutely anything, as we need to get this right," he said.
"Now, we will meet with community stakeholders as we have done all the way along this process to review options going forwards.
"We are continuing to progress plans to improve Crystal Palace Park with an investment in excess of £2m."
The original glass structure was built in 1851 in Hyde Park but moved to Crystal Palace in 1854.
The replica palace was announced with some fanfare by Mr Johnson in October 2013.
A spokesman for the mayor said Mr Johnson still supports the regeneration plans for Crystal Palace Park, but added: "We support Bromley's decision to now, after 16 months of dialogue, to limit the duration of these negotiations."
Two weeks ago the council asked for assurances about the company's plans and imposed conditions including a non-refundable deposit of £5m.
The ZhongRong Group has yet to comment.