Johnny Savile 'carried out sex attacks at London hospital'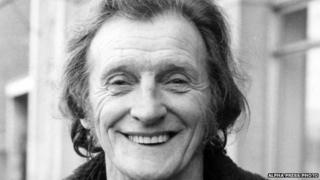 The older brother of Jimmy Savile was implicated in sex attacks at a south London hospital, a report says.
Johnny Savile is alleged to have carried out the assaults while working at Springfield Hospital in Tooting.
The seven allegations, relating to a period between 1978 and 1980, culminated in Savile - who died in 1998 - being sacked.
However, there was no evidence Jimmy Savile visited the hospital, the NHS report said.
The report also states there is no indication the allegations were reported to police.
But, a victim said Johnny "used his brother's fame" and thought he could go anywhere in the hospital he liked, the report by South West London and St. George's Mental Health NHS Trust said.
In his job as the hospital's recreation officer he held activities for patients such as discos - which he also organised for a local girls' school.
---
Victim's experience
A victim of Johnny Savile told BBC News: "So I went in and he locked the door behind me, I'm not sure exactly when I was aware of that, but then he turned around and dropped his trousers and forced himself on me."
She added: "I was just completely ignored and it diminishes you. Not only that but... because you are not believed you are denied any appropriate treatment."
---
The allegations were made by patients, a visitor and a staff member. All of the victims were adults at the time of the attacks.
One alleges that on 4 June 1979 she was sexually assaulted and raped by Johnny Savile in his office.
She claimed there was a culture "whereby female patients wanted to stay in Johnny Savile's 'good books'," the report states.
Another made allegations of assaults from 1979, when she was a patient at the hospital. Other allegations relate to groping and inappropriate touching.
Lawyers representing the woman who alleged she was raped have confirmed her claims were not acted upon on numerous occasions.
Despite gaining the courage to tell the hospital's staff, the police and her GP of the incident on numerous occasions between 1991 and 2012, no action was taken to investigate the claims, they said.
David Bradley, chief executive of the mental health trust, offered his "heartfelt apologies to the victims".
He said: "The investigation's findings of the suffering the victims experienced, and the lack of support they received, is very disturbing to read about today given our much greater awareness of the sexual exploitation and abuse of vulnerable people.
"The abuse these patients were subject to, and the conditions described at Springfield Hospital in 1979 were wholly unacceptable."