Tube worker Karen Guyott 'sacked for having epilepsy', say MPs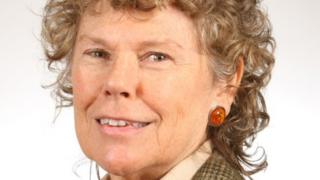 A Tube worker has been sacked for having epilepsy, MPs have said.
Labour's Kate Hoey, a former minister, said Karen Guyott, 29, was diagnosed about five years ago and had now been "dismissed due to her epilepsy".
Ms Hoey said an incident in January led to London Underground arguing Ms Guyott's condition was "too risky for them to be able to manage".
London Underground said: "We remain committed to supporting staff with medical conditions."
It added that it could not comment on individual cases.
Review plea
During a Commons debate on epilepsy, Vauxhall MP Ms Hoey said the Rail, Maritime and Transport union (RMT) fended off initial attempts by London Underground to dismiss Ms Guyott after she was found to have the condition.
Ms Hoey called on health minister Norman Lamb to review the case.
Mr Lamb said he could not comment on an individual case but said "the absolutely important point to recognise about combating discrimination for disability, including those who suffer the disability of epilepsy, cannot be overstated".
Addressing Conservative MP Laura Sandys during a Commons debate on epilepsy, Ms Hoey said: "I wonder if you would think it quite shocking that in this day in age a very large public body... could actually sack a young woman for the fact she has epilepsy, and this really is something we cannot allow to happen."
South Thanet MP Ms Sandys replied: "I was actually going to bring up this particular case. This is quite an extraordinary case."
In response to the comments made in the Commons, London Underground operations director Nigel Holness said: "We are an equal opportunities employer and we remain committed to supporting staff with medical conditions.
"We currently employ 16 operational staff and 11 office-based staff diagnosed with epilepsy.
"We will always seek to accommodate adjustments that have been recommended by Occupational Health wherever possible.
"As we do that, we need to balance our duty and wish to accommodate staff, with a responsibility for their safety and those of our customers."
Ms Guyott has not yet commented.