Tower Hamlets mayor case: Aide denies grants given unfairly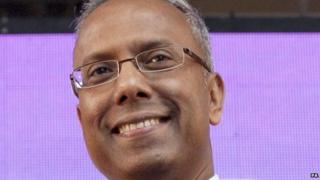 An aide to an east London mayor accused of electoral fraud has denied council grants were handed out unfairly.
Alibor Choudhury said the independent mayor of Tower Hamlets, Lutfur Rahman, had "reached out to everybody".
Mr Rahman has been taken to Election Court by local voters to try to declare his 2014 election win void. He denies any wrongdoing.
They claim the council gave grants unfairly to areas in the "heartland" of Mr Rahman and his supporters.
But Mr Choudhury - Mr Rahman's election agent - said: "I strongly disagree with that.
"There was a fair process. The grants underwent a process by which they were assessed."
He said of Mr Rahman: "His focus was to reach out to everybody that lives in the borough."
The hearing continues.