Tower Hamlets mayor Lutfur Rahman corruption claims 'untrue'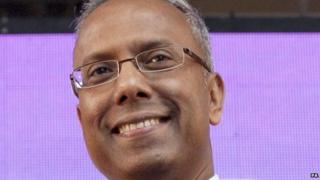 A supporter of an east London mayor accused of electoral fraud has denied money for housing was allocated because of "corrupt decisions".
Tower Hamlets' independent mayor Lutfur Rahman has been taken to the Election Court by four voters who want his 2014 election to be declared void and re-run.
Council member Rabina Khan said allegations housing grants were handed only to supporters were "untrue".
Mr Rahman denies any wrongdoing.
The group of four has suggested Tower Hamlets Council grants unfairly went to areas in the "heartland" of Mr Rahman and his supporters.
'Muslim brother'
Mr Rahman, the independent mayor of Tower Hamlets and leader of the party Tower Hamlets First (THF), was elected for a second term last May.
Mrs Khan, cabinet member for housing and development and a member of THF, was asked by a lawyer whether housing allowances had been given out on the basis of "corrupt decisions".
She told the court "absolutely not".
Mrs Khan also denied suggesting to voters that not voting for Mr Rahman was "haram" - forbidden by Islamic law.
Another THF supporter also denied urging voters to back "your Muslim brother" - Mr Rahman.
Ana Miah told the trial: "I never said that".
Four voters have mounted a legal challenge under the provisions of the Representation Of The People Act.
Lawyers for the group have made a series of allegations, including "personation" in postal voting and at polling stations, and ballot paper tampering.
The hearing continues.