Theresa May to decide on water cannon after election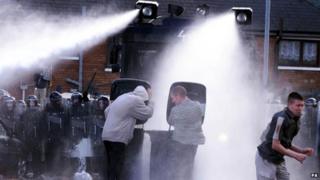 The home secretary has postponed a decision about whether to allow the use of water cannon on the streets of Britain until after the election.
Theresa May had previously said she would make a ruling by April.
Work is still continuing to evaluate the equipment the Mayor of London Boris Johnson has already bought from Germany for the Met Police.
Water cannon, used Northern Ireland, have been linked to broken bones and blindness.
A spokesperson for the Mayor's Office for Policing and Crime said independent polling had shown the "majority" of Londoners support police being able to use the weapon in exceptional circumstances.
They added: "The mayor has made his position clear and awaits the home secretary's licensing decision."
Labour said the move showed Mr Johnson's "ill-judged" proposal was not a good idea.
Joanne McCartney, London Assembly Crime Spokesperson for Labour said: "Water cannon are not only extremely dangerous, they are bluntly indiscriminate tools which should have no place in our capital city."
Mayor 'stubborn'
She called for the mayor to sell the weapons and reinvest the money in things the Met Police "actually need".
Leader of the Liberal Democrat London Assembly Caroline Pidgeon said "unlike the mayor" Mrs May was showing common sense on the issue.
"Water cannon runs the risk of injury of innocent people and it will certainly undermine policing by public consent," she said.
She said the tool was ineffective to manage serious public disorder and that Mr Johnson had "stubbornly" pushed ahead with spending public money on the cannon.