Martin Thomas stab killing: Man and youths get custodial terms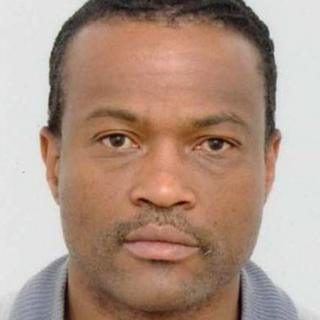 A boy who stabbed to death a gay man whom he believed was interested in him has been sentenced to at least 15 years in custody.
Usher Sawyers was 15 when he robbed and murdered Martin Thomas, 39, at his home in Roehampton, south-west London.
His accomplices, a boy of 14 and Odel Munroe, 20, were handed seven years and 12 years respectively for manslaughter.
The Old Bailey heard 6ft 2ins tall Sawyers dropped his bloody deerstalker hat as he fled the scene, last April.
Sawyers, now aged 16 and from Putney, south London, stabbed Mr Thomas five times with a kitchen knife he found at his victim's home.
Sentencing, Judge Gerald Gordon said: "You ended the life of a man who had come to this country seeking safety from persecution for his lifestyle and thought he had found it."
He told Sawyers he had identified his victim as the "perfect target" because he believed there was - on his part - a sexual element to their relationship.
"What is clear by that day, you had identified him as a person who would be unlikely to report you to police afterwards and therefore a perfect target for robbery," Judge Gordon said.
He ordered Sawyers be detained at her majesty's pleasure for a minimum of 15 years for the murder, plus 10 years for robbery. Both sentences will run concurrently.
Judge Gordon further ordered the 14-year-old boy to serve seven years for manslaughter and five years for robbery while Munroe, of Wandsworth High Street, south-west London, was sentenced to 12 years for manslaughter plus nine years for robbery, both to run concurrently.