Battersea Arts Centre fire: Fund raises £17k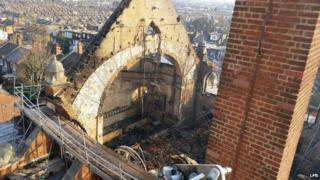 More than £17,000 has been raised less than 24 hours after a fire ripped through Battersea Arts Centre in south London.
About 30% of the first and second floors of the Grade II listed property were destroyed and the roof collapsed. No-one was injured.
Black smoke could be seen across Clapham after the fire broke out at about 16:15 GMT on Friday.
London Fire Brigade said it was continuing to damp the site down.
The 1893 building was formerly Battersea Town Hall but was turned into an arts centre in 1974 and houses a theatre.
Artistic director David Jubb said it was believed the fire started in the roof of the Grand Hall, that was being refurbished.
He said: "Most importantly everyone is OK. And the organisation and the front half of the building live to fight another day.
"We want to get the shows back on and rebuild the building brick by brick.
"At the moment we have no offices, no Grand Hall theatre, and we have to re-establish a new financial model for the next 12 months," he added.
The centre said it would contact all ticket holders regarding refunds or exchanges.
Station manager Matt Burrows said: "Firefighters did a great job to save large parts of the building including the octagonal dome which I'm told is priceless and salvaged valuable art work.
"We'll continue to damp down and our fire investigators are inspecting the building to find the cause."
He added that at the fire's outbreak, LFB's control room took more than 50 emergency calls from the public.