Man admits James Fiennes scissor killing in Mortlake restaurant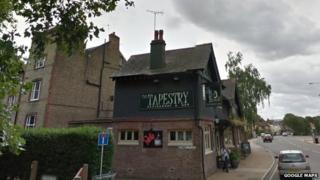 A man who killed a member of the Fiennes family with a pair of scissors in a south London restaurant has been detained indefinitely in hospital.
James Fiennes, the cousin of explorer Sir Ranulph and actor Ralph, was stabbed three times on 22 April 2014.
The Old Bailey was told killer Nicholas Hunter launched the unprovoked attack in The Tapestry after telling him: "James, I'm going to have to kill you."
Hunter, 37, admitted manslaughter by diminished responsibility.
The aeronautical engineer, from Clapham, was suffering from schizoaffective disorder and had denied murder
The court heard Hunter bought a pair of scissors and went to The Tapestry bar and restaurant in Mortlake with his friend Thomas Olsen.
'Complete explosion in my mind'
Prosecutor Zoe Johnson QC said after the two men sat down, Hunter called out "Hi James" to 49-year-old Mr Fiennes, who was sitting nearby.
Ms Johnson said it was not believed the pair knew each other and it may have been the "most awful ghastly coincidence" that the defendant addressed Mr Fiennes by his correct name.
She said: "Mr Fiennes walked over and asked where he knew the defendant in a polite fashion.
"The defendant then said: 'James, I'm going to have to kill you'."
The court heard Mr Fiennes thought it a joke before the defendant stabbed him.
The Old Bailey heard Hunter had been suffering from auditory hallucinations telling him to be a "Glasgow hard man" and that he had really wanted to kill the Queen.
In a police interview, he admitted stabbing Mr Fiennes describing it as a "complete explosion in my mind".
A post-mortem examination found Mr Fiennes died from bleeding and a scissor stab wound to the heart.