Great Newham Run: Ex-Olympic stadium to host 10km run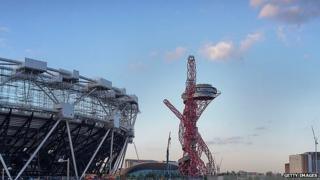 The former Olympic Stadium will temporarily reopen in July to host a 10km run intended to rival the Great North Run, it has been announced.
The Great Newham London Run is due to be held at the Queen Elizabeth Olympic Park on 19 July.
Organiser Brendan Foster said he hoped to make it the UK's biggest mass participation event, with 60,000 people taking part.
The stadium is eventually set to become West Ham United's permanent home.
The 10km run will be the first sporting event held there since transformation work began following the end of the 2012 Games.
Before West Ham United moves in, the stadium will host a number of sporting events including a Barbarians v Samoa rugby union match in August, five matches of the Rugby World Cup and a Rugby League international between England and New Zealand.
In 2017, the stadium will host the IPC Athletics World Championships and IAAF World Athletics Championships. It will also be used as the national competition centre for British Athletics in 2016.
Announcing the 10k run earlier, Mr Foster said: "I hope the British public will be as excited as I am about this event".
Tyneside's Great North Run, which Mr Foster founded, is currently the biggest annual running event in the UK with about 57,000 entrants.