London Euston rail disruption after cables damaged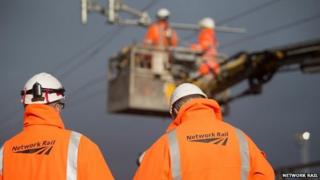 Rail passengers face severe delays and disruption because of damaged overhead power lines affecting trains to and from London Euston.
The cables are damaged between Leighton Buzzard in Bedfordshire and Cheddington in Buckinghamshire.
Network Rail said the fault was reported at about 09:15 GMT but it did not know how the damage was caused.
It said Virgin Trains and London Midland services would be affected until at least 06:00 GMT on Thursday.
The problem is also affecting Southern trains between Watford Junction and Milton Keynes Central and Virgin West Coast services between Euston and Edinburgh, and Euston and Glasgow Central.
A spokesman for London Midland apologised for the disruptions.
Network Rail said engineers were carrying out repairs to 800m of cabling and has advised all passengers to check with their train operator before travelling.