'Syrian-born former imam' found shot dead in car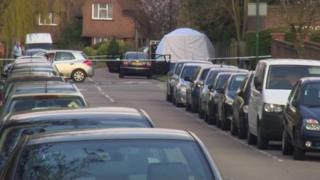 A Syrian man living in the UK, believed to be a prominent activist against President Assad, has been found shot dead in his car in north-west London.
Police were called by paramedics after a man, in his 40s, was found with what were thought to be bullet wounds to the chest, at The Paddocks, in Wembley.
The BBC understands the victim was Abdul Hadi Arwani, a chef and former imam at a London mosque, reported in the past as having extremist links.
A murder investigation has begun.
A post-mortem examination is due to take place, a Met Police spokesman said.
Anyone who may have been in the area of Greenhill Junction and The Paddocks on Tuesday morning, and may have seen a dark-coloured Volkswagen Passat, is asked to contact police.