Footballer Andrea Dossena in Harrods shoplifting arrest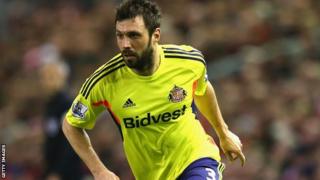 Ex-Premier League footballer Andrea Dossena has been arrested on suspicion of shoplifting at London department store Harrods, the BBC has learned.
The Leyton Orient defender, who used to play for Liverpool, was held in Brompton Road, Knightsbridge, on Tuesday, the BBC understands.
The Met Police said a 33-year-old man and a 31-year-old woman were arrested and taken to a west London police station.
They have been bailed until late April.
In a statement, Leyton Orient Football Club said: "The club are aware of the incident reported earlier today involving Andrea Dossena."
It added it would not comment further whilst it was being dealt with by the authorities.
Dossena scored against Manchester United and Real Madrid while he was at Liverpool.
After joining Liverpool for £7m in July 2008, Dossena scored in the Reds' 4-0 win against Real Madrid in the Champions League in March 2009 and then again in the club's 4-1 away victory at Old Trafford against Manchester United.
The Italian, who won 10 caps, joined Napoli in January 2010 before a spell at Sunderland in 2013-14.
He joined League One Leyton Orient in November last year.