London gridlocked in taxi protest over illegal touting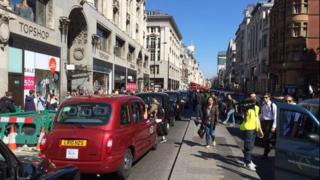 Black cab drivers are protesting about illegal touting and threats to regulations on Oxford Street, bringing surrounding roads to a standstill.
The protest, which started at 14:00 BST, is set to last for two hours.
Members of the United Cabbies Group are taking part in the protest, as they said illegal minicab touting is "out of control".
They also said minicabs are being driven without insurance and the regulated taxi trade was under threat.
There has been outcry by drivers recently over the widespread use of taxi apps such as Uber.
Len Martin, from the United Cabbies Groups, told BBC London 94.9: "Every single night there are a number of touting incidents taking place every single night on the streets of London.
"I'd like to see a good deal more enforcement officers on the street."
Garrett Emmerson, from Transport for London (TfL), told the BBC: "To say the situation is out of control or is growing in some way is completely wrong.
"We have actually seen a 77% reduction in reported incidents of touting since TfL has had responsibility for this. It will always be an issue for us and always something we want to get lower."