Man found guilty of 'revenge' killing in Notting Hill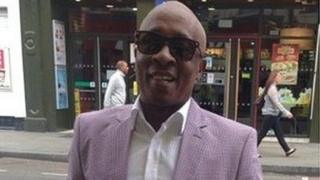 A man has been found guilty of murder after he stabbed a man in a revenge attack, police said.
Tony Charlery, 59, was stabbed in the neck in Notting Hill in 2014.
Police said Tayo Wesley, 39, from Earls Court, was convicted of the killing at Kingston Crown Court.
Metropolitan Police Det Insp Sarah McConnell said Wesley had harboured a "serious grudge" against Mr Charlery as he thought he was responsible for death of his sister.
Wesley's sister Bolajai died in 1999 after falling out of a third-floor window in Earls Court, the court heard.
Mr Charlery, who was living with her at the time, was acquitted of any crime by a jury at the Old Bailey in 2002, to the "fury of Wesley", police said.
Sentencing takes place later.