Abdul Hadi Arwani murder: Second man charged over death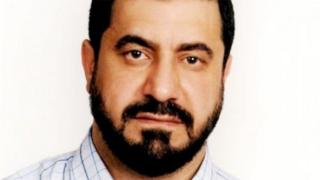 A man has been charged with possession of an explosive substance by police investigating the murder of a Syrian-born preacher in north-west London.
Abdul Hadi Arwani, 48, was found shot dead in his car on 7 April in Wembley. He was believed to be a critic of Syria's President Bashar al-Assad.
Khalid Rashad, 61, of Wembley, was also charged with possession of ammunition for a firearm.
He is due to appear at Camberwell Green Magistrates' Court on Saturday.
Mr Rashad has been remanded in custody.
No further action will be taken against a 53-year-old woman, arrested on suspicion of the commission, preparation and instigation of acts of terrorism.
A 36-year-old man, arrested on 17 April, on suspicion of conspiracy to murder was bailed on 19 April to a date in early May.
On 7 April, a 36-year-old man charged with Mr Arwani's murder was remanded in custody, to re-appear in court on 28 April.