TfL boss apologies for expletive Southeastern comments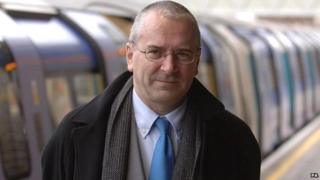 The head of Transport for London (TfL) has apologised for making "unjustified and excessive" comments about Southeastern trains.
Sir Peter Hendy told Management Today magazine Southeastern trains were "awful" and using them was "like stepping into the Wild West".
In a letter to the firm, he said he knew the company "was doing its best to offer a good service."
Rail worker unions said the comments had been neither "wise or sensible".
'Like the Gestapo'
Sir Peter said he had been interviewed by the magazine "during the worst of the issues at London Bridge" but timing was not an excuse for his comments.
"Passion is no excuse for insult," he said.
Manuel Cortes, of the TSSA rail union, said: "Our ticket inspectors do a difficult enough job without these sort of crass comments from Sir Peter adding to their often stressful working day."
During the interview, Sir Peter Hendy also described Southeastern inspectors as being "like the Gestapo" who "fine everyone they can."
Mick Cash, leader of the Rail, Maritime and Transport (RMT) union, said he was waiting "for an apology for that outrageous slur".