Clapham Junction and Victoria rail 'chaos' after power cut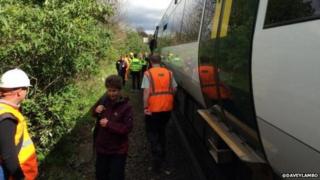 Major delays will affect trains through south London all evening following an earlier power cut, an operator says.
An electrical problem between Wandsworth Common and Clapham Junction earlier caused trains in and out of Victoria station to be suspended.
Thousands of people were stranded in morning rush hour for up to five hours.
Although services have since resumed there would be knock-on delays all night because trains were in the wrong locations, operator Southern said.
Emergency services were called to rescue people who had been stranded for hours.
All Gatwick Express services were cancelled and passengers on Southern trains were badly affected.
London Fire Brigade said it helped about 900 passengers off stranded trains.
Police and paramedics had to bring water on board some trains for passengers who had been stuck on non-moving trains without air conditioning for up to five hours.
A spokesman for Southern Trains said: "The Brighton train is in the Coates Avenue area near Clapham Junction and we are getting it moved by a diesel engine to Wandsworth Common."
'Like an oven'
He said a train travelling between East Grinstead and Victoria had also been affected.
"Those passengers are being taken off the train at Battersea Rise," he added. "I have no reports yet as to how they are."
Anna Roberts was stuck on a London-bound train travelling from Brighton.
She said the situation was so bad police and paramedics had to bring water supplies on board, which were passed around the carriage.
"With the power off it's like an oven in here," she added.
'Tempers flared'
Another passenger, Freya Richard, was stranded on a train between East Grinstead and Victoria for five hours.
She said conditions on the train were "horrendous".
Ms Richard said: "Most people hadn't eaten breakfast so tempers have flared."
"We had police on the train and one guy managed to jump off and make a run for it. I'm not sure what happened to him."
Other train passengers struggled to get in and out of overcrowded stations.
National Rail information said conductor rail problems between Wandsworth Common and Clapham Junction had caused damage.
It said once the trains had been moved, the repairs should take up to three hours but trains and train crews would then be out of place.
Southern Trains had two of its four lines running again by lunchtime but because of the severity of the problem said the disruption would continue until the end of the day.
It said Victoria station was likely to be very busy and services to and from London Bridge would also suffer.