Cash machines 'blown up' by London gangs up by 2,000%, FoI reveals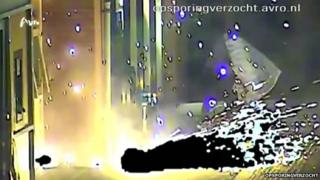 The number of cash machines blown up by criminal gangs in London has increased by 2,000% in a year, the BBC has learned.
Criminals targeted 21 cash points in 2014, pumping them with flammable gas before igniting them.
A Freedom of Information request to Scotland Yard revealed there was just one incident in 2013. Police refused to comment further.
Industry experts have warned the trend could lead to serious injury.
Pharmacy owner Shazid Karim said when the cash machine attached to his shop was targeted it left his whole family feeling "very scared".
He said: "[There was] glass everywhere, mess, the whole shop was opened and exposed in the middle of the night in winter, so it was very dark as well. We got very, very scared."
The trend has previously been seen in places including the Netherlands, but experts believe a surge in cases in London could cost banks millions of pounds and are working to create technology to prevent such attacks.
Clive Nation, from Cennox, a security firm specialising in bank machines, said; "If there is an attack on the machine, not only does it blow the machine up and potentially blow the side or the front of the shop or the branch out, it could cause serious injury to a passerby."