London 'may keep stamp duty for major projects'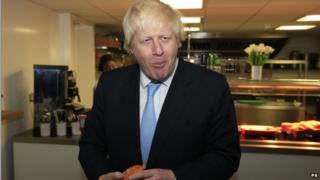 London could get extra powers to spend stamp duty on large construction projects like Crossrail 2, Mayor Boris Johnson has said.
He met the chancellor earlier this week to discuss potential funding on a "project by project" basis.
Mr Johnson said although the Treasury may have some reservations he believed a deal could be reached.
In the tax year 2013-14, London raised about £2.7bn in stamp duty compared to £6.4bn raised in the whole of the UK.
Stamp duty, or land tax, is collected by central government, but Mr Johnson said: "Take Crossrail 2 - we think that you could devolve to London the stamp duty, the business rates and so on that are raised by that incredible transport development."
He said he thought the Treasury would not give London all of the stamp duty the capital had raised, but added: "Rather than just saying you can have all of stamp duty, I think they'd like to do it project by project, idea by idea."
Crossrail 2 is a planned £12bn rail route, running from Cheshunt in Hertfordshire to Epsom in Surrey, designed to link north and south London.