Art installation bathing pond opens in King's Cross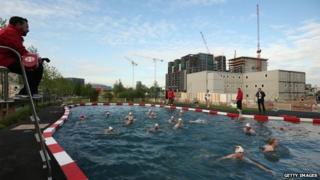 Swimmers are being invited to take a dip in an art installation pond in central London.
Of Soil and Water: King's Cross Pond Club is an art project designed by Ooze Architects and artist Marjetica Potrč.
The 40m (131ft) chemical-free pond uses plants to clean the water and is due to remain open for up to two years.
Artist Marjetica Potrč said: "We have to re-think how we live with the city and with nature."
She added: "Here, we are collaborating with nature and the artwork encourages the viewer to participate in that experience."
The swimming pond will be purified through a natural process, using wetland and submerged water plants to filter and sustain clean water.
It is within a working construction site area of London's King's Cross and plants, wild flowers and bushes surrounding the environment will also evolve and change with the seasons, the designers said.
Bathers have to buy tickets for the pond as numbers will be restricted due to its chemical-free nature.