Tessa Jowell's mayoral pledge to tackle rogue landlords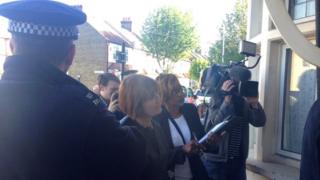 Labour's Tessa Jowell has announced plans to establish mandatory licensing for the private rental sector to help deal with rogue landlords if she is elected mayor of London next year.
She says the government is making it harder for London's local authorities to introduce borough-wide licensing schemes.
But the Department for Communities and Local Government (DCLG) tells us it has already "introduced a range of powers for councils to tackle rouge landlords backed by £6.7m of government funding".
Earlier on Wednesday the London mayoral candidate joined a council raid by licensing officers in Newham cracking down on suspected rogue landlords.
'Beds-in-sheds removed'
Newham Council became the first local authority in England to introduce mandatory borough-wide licensing for all private rented properties in January 2013.
The scheme requires Newham's landlords to register each property with the council with those failing to license their properties facing fines of up to £20,000.
The council says it is proving successful with more than 22,000 landlords already signed up and and more than 500 illegal so-called "beds in sheds" structures have been removed.