Tube strike suspended by unions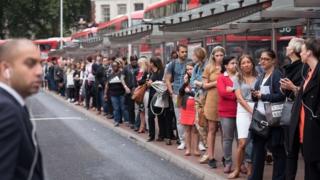 Two 24-hour Tube strikes planned for this week have been called off after talks between unions and London Underground (LU) managers.
Tube workers have been in dispute with LU over rotas and working conditions on the new Night Tube service.
The Unite union said it had suspended its action as a "gesture of goodwill" to allow further talks.
Unions have put forward new strike dates of 8 and 10 September if a deal is not reached.
'Sticking points'
The industrial action scheduled for Wednesday and Friday would have been the third round of strikes this summer, following walkouts on 8-9 July and 5-6 August.
Unite regional officer Hugh Roberts said there were some "remaining sticking points" but the union felt enough progress had been made to suspend industrial action.
He said he hoped LU would "seize this opportunity to reach a deal that fully addresses our members' concerns".
Rail union leaders met LU managers under the chairmanship of the conciliation service Acas on Monday in the hope of reaching a last-minute deal.
The drivers' union Aslef had already decided not to strike.
---
Analysis
By BBC London transport correspondent Tom Edwards
A sigh of relief for many Londoners tonight, but it's not completely over yet. It's worth remembering those potential strike dates on 8 and 10 September.
That's two days before the Night Tube is meant to be introduced and the Tube unions had obviously picked those dates for a reason.
It will certainly add to the pressure to try and resolve it. However, I do detect from both sides that there is some hope that this can all be sorted out.
The key question is: is the Night Tube going to go ahead on 12 September? It doesn't look too hopeful at the moment.
---
The night service was originally scheduled to start at weekends from 12 September.
LU has said it is operationally ready for the launch but unions believe it will be delayed because of the protracted row.
'Unnecessary strike'
London Mayor Boris Johnson welcomed the suspension of what he called "an unnecessary strike that would have caused huge inconvenience to Londoners and businesses".
He continued: "I would urge the unions to continue with positive discussions that will help to deliver a night Tube service that will bring huge benefits to our city."
General secretary of the Rail, Maritime and Transport (RMT) union, Mick Cash, praised the union's negotiators for making "significant progress".
He warned: "We have still not reached a final agreement and as a result we are putting on additional strike action next month."
The leader of another union to suspend its action, Manuel Cortes of the Transport Salaried Staffs' Association (TSSA) said: "We are not out of the woods yet."
The unions have argued that proposals for the running of the Night Tube do not allow their members a reasonable work-life balance.
Nick Brown, LU's managing director, said: "It is good news for London that the strike has been suspended.
"We will now continue to work with the unions so that we can resolve this dispute and get on with delivering for our customers, businesses and London."