Mike Brown appointed new commissioner of Transport for London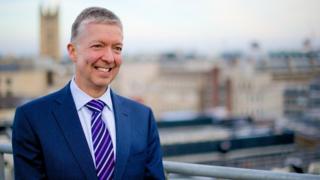 Mike Brown has been appointed the new commissioner of Transport for London (TfL).
Mr Brown has been the Interim Commissioner since July when Sir Peter Hendy left to take up the position of chairman of Network Rail.
Mr Brown said he was honoured to be appointed into the role following an international recruitment process.
The mayor of London said Mr Brown was the "right person" to lead the growth of the capital's transport network.
Mr Brown, who was was previously TfL's managing director of London Underground and Rail, said: "London's transport networks have been modernised and customer service transformed in recent years, enabling us to carry more people, more safely and reliably than ever before."
He added his priorities as commissioner included continuing to modernise and upgrade the Tube, as well as the delivery of Crossrail and Crossrail 2.
Transport for London said the new commissioner would receive a salary of £355,944, the same as the previous Commissioner, in 2015/16.
Mr Brown will also be eligible for a performance award each year of up to 50% of his salary.
London Assembly Green Party member Jenny Jones criticised the mayor for not reducing the new commissioner's pay.
She said: "The mayor has missed a golden opportunity to ratchet down top pay at TfL.
"The police commissioner is paid £290,000, so paying the TfL commissioner more than £500,000 doesn't look fair or necessary."