O2 Arena fire leads to evacuation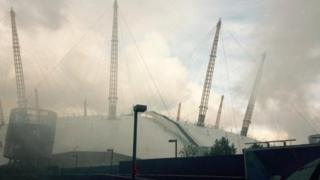 More than 1,200 people were evacuated from the O2 Arena in London due to a fire at a restaurant.
London Fire Brigade said it was called to the arena on Millennium Way, Greenwich, at about 11:15 BST.
About 21 firefighters tackled the blaze, which was contained to the restaurant's extraction system.
Station Manager Martin Freeman said: "It did create a lot of smoke and so security staff evacuated people from arena. There were no injuries."
At the time Julie Price tweeted: "At O2 for Elvis exhibition but can't go in as its on fire."
The cause of the fire is not yet known.