Heathrow fog causes cancellation of dozens of flights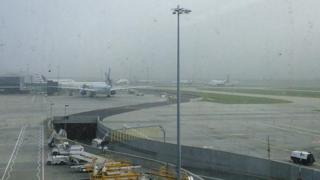 Poor visibility caused by thick fog has led to the cancellation of about 50 flights at Heathrow airport, a spokeswoman said.
Passengers have been warned about foggy conditions across the UK and Europe causing disruption to flights. They are advised to check with their airlines.
The airport did not expect any further cancellations or delays.
The Met Office has issued a yellow weather warning for fog.
It is expected to become widespread and dense in the London area from Sunday night into Monday morning.
Passenger Ed Drewett wrote on Twitter: "Stuck on the ground at Dublin due to fog at Heathrow. Gonna miss my flight to LA."
Tim France also tweeted that he was delayed leaving Dublin.