Man jailed for smuggling sandwich and drugs into prison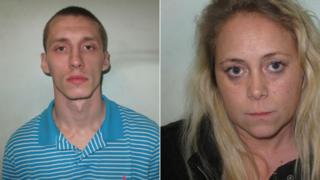 A man has been jailed for smuggling drugs, a knife and a McMuffin sandwich into Wormwood Scrubs prison.
CCTV footage showed him outside the jail tying the goods to a fishing line that was pulled into a cell.
Karl Jensen, 27 and his girlfriend, Lisa Mary Hutchinson, 26, both of Ladbroke Grove, were sentenced at Isleworth Crown Court on Thursday.
Jensen was jailed for two and a half years and Hutchinson received a 12-month community order.
Jensen pleaded guilty to seven charges including conspiracy to supply a class A drug and three counts of conveying an article into prison.
Hutchinson admitted allowing her home to be used for the supply of class A and class B drugs.
'Deadly combination'
Met officers were alerted when prison staff spotted Jensen and Hutchinson in Artillery Lane near the prison on in October last year.
Staff watched on CCTV as Jensen tied a bag to a fishing line and it was hauled up into the prison.
The bag, which was found inside the cell, contained a five-inch blade, a Smartwatch, a mobile phone, cannabis and cocaine.
Other smuggled goods included a McDonald's McMuffin, a plastic Kinder Surprise egg containing five Sim cards, a bottle of vodka and USB chargers.
Det Con Andy Griffin said the combination of items "could have been deadly."
There have been no further arrests in connection with the smuggling.