London imam stopped from flying to US over 'Facebook follower'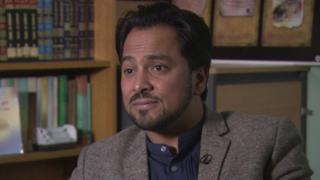 A London imam has said he was prevented from travelling to the US and his visa was revoked over concerns about one of his 28,000 Facebook followers.
Ajmal Masroor was travelling to New York just before Christmas and was stopped from boarding at Heathrow.
He told BBC London US officials never gave him a clear reason and said his treatment was "an absolute scandal".
The US Embassy said it was "in contact with the individual" but refused to make any further comment.
More on this story and other news from London
Mr Masroor, a spokesperson for the Islamic Society of Britain, said he was invited to lead Friday prayers at a mosque in New York and was due to deliver some lectures at conferences while there.
He was also hoping to see a few relatives before returning to London after the short break.
'Mockery'
He said: "Unfortunately just as I was about to board the plane the American official, that's what he claimed, took me aside and said your visa has been revoked, and he still hasn't given me clear reasons why, apart from the suggestion that they made that they have got somebody on my Facebook that they want to talk to and they don't like.
"So its ridiculous, it's an absolute scandal."
Mr Masroor said he was asked if he knew a person through social media, but the imam said he did not recognise the name or know the person.
"If there is any reason to believe that I have been involved in anything illegal, anything that violates any law in any country in the world, take me to court, find me guilty, put me in the prison, but to revoke my visa with no reason and giving no concrete evidence is just ridiculous.
"Profiling people based on their religion, especially being a Muslim and flying makes a mockery out of what we call a democracy and freedom."
The imam is now asking Muslims who have been stopped from flying to recount their tales.
On 15 December, a Muslim family from Walthamstow, including four children, were refused permission to board a flight to the US - for a holiday to Disneyland, out of Gatwick.