Transport for London should run south London rail, report urges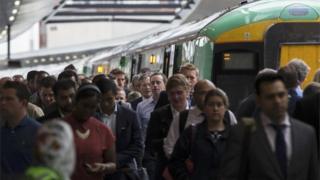 "Strained" rail services in south London are "not delivering" and should be taken over by Transport for London, according to a think tank report.
The Centre for London has called on the Department for Transport to devolve the network when current franchises expire.
London Mayor Boris Johnson welcomed the idea, saying: "London deserves even more metro-style rail services."
The Rail Delivery Group said the current system produced some of "the best passenger satisfaction levels".
More on story this and other news from London
The centre's report found the rail network south of the river was already "strained" and warned of "a serious rail capacity gap".
Greater London Authority population projections for south London show the area is expected to grow by 35%, or almost a million people, by 2041.
The report's chief recommendation was for south London's trains to be devolved and run in the same way as the London Overground.
The Overground was created in 2007 by integrating several suburban services, mainly in north and east London.
---
Current rail providers in south London
South Eastern - Southeastern (Govia): franchise expires 2018
South Western - South West Trains (Stagecoach): franchise expires 2017
Thameslink, Southern - Govia Thameslink Railway (Govia): franchise expires 2021
---
Ben Rogers, director of the Centre for London, said: "Population growth is putting the transport infrastructure of London under serious pressure."
He said converting lines to the Overground "would help close the capacity gap, as well as stimulate major housing development around stations".
A spokesman for the Rail Delivery Group, which represents train operators and Network Rail, said: "Some of the best rail passenger satisfaction levels in London and the South East are being achieved on services commissioned by both Transport for London and the Department for Transport."
He added: "The rail industry is ready to work with national and local government to deliver even better rail services that meet the needs of commuters."