Freedom of London for men jailed with Nelson Mandela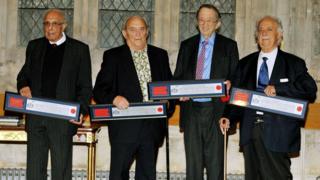 Two men who were sentenced to life imprisonment alongside Nelson Mandela in South Africa have received the Freedom of the City of London.
Ahmed "Kathy" Kathrada and Denis Goldberg were both jailed because of their activities during the Apartheid period.
Lord Mayor Jeffrey Mountevans said the honour was a "tribute to the noble and fearless fortitude" of the men.
They received the accolade with their defence team at the Guildhall.
The City of London said the men were awarded in recognition of their fight for freedom and racial equality.
---
Denis Goldberg
A former member of the African National Congress (ANC) military wing
Arrested in 1964 when police discovered a plot for a 7,000-strong uprising
Sentenced to four life terms in prison after being convicted of armed resistance
Served 22 years in a "whites-only" prison in Pretoria
---
Ahmed "Kathy" Kathrada
First imprisoned for defying laws discriminating against Indians
Met Nelson Mandela in 1952 and joined his fight against Apartheid laws
Put under house arrest in 1962 but secretly continued his campaign
Spent 26 years in prison, 18 on Robben Island, before being released in 1989
---
Mr Goldberg, now 82, told a Q&A session that South Africa had "come a tremendously long way in undoing what the Apartheid government did" but "there is still a long way to go".
He told the audience he still did not know how he had been caught by police but at the time he was "certain we were going to be hanged".
Mr Kathrada, 86, organised protests for the ANC with Mr Goldberg even after the South African government had shut the group down.
He told the audience: "Even when we were banned we knew we had to carry on our work in some form or other."
Another political prisoner, Andrew Mlangeni, was also due to receive the Freedom of the City but was unable to attend the ceremony because of ill health.
His son attended in his absence along with Nelson Mandela's daughter and granddaughter.
---
A very brief history of Apartheid in South Africa
Policy of apartheid (separateness) adopted when National Party (NP) comes to power in 1948
The ANC, led by Nelson Mandela, begins campaign of civil disobedience after an act segregates blacks and whites
The ANC is banned in 1960 and Nelson Mandela is sentenced to life imprisonment
Clashes at home and condemnation from abroad puts pressure on the government
FW de Klerk becomes president in 1989. He desegregates public facilities and meets Mandela
The ANC is unbanned and Nelson Mandela is freed after 27 years in prison, most of those served on Robben Island
Mandela is elected president of South Africa in 1994