Stuffed animals worth £100k stolen from Wandsworth warehouse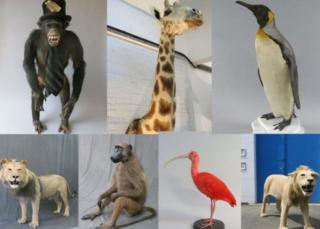 A chimpanzee wearing a top hat, a lion and a zebra are some of the stuffed animals worth £100,000 that have been stolen from a south London warehouse.
The theft took place at a taxidermy warehouse in Wandsworth on the evening of 1 March, at about 19:20 GMT, Metropolitan Police said.
Antiques taken included a globe and 18 stuffed animals.
It is believed the thieves came in a Luton van with a grey cab and white body, using axle grinders to break in.
Det Con Edward Bird said: "This was not a random crime, the burglars had came prepared and well equipped. This was a criminal enterprise and these thieves need to be stopped before they commit further crimes.
"The items they stole are of high value and are very distinctive."