Top Gear told off by George Osborne for 'noisy filming'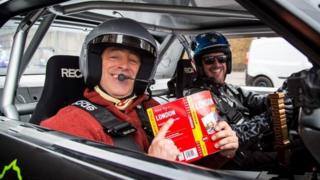 Chancellor George Osborne has given the Top Gear team a ticking off for making too much noise near Downing Street while he was writing the budget.
The show's host Matt LeBlanc and professional rally driver Ken Block performed high-speed spins in central London during filming over the weekend.
The chancellor tweeted that a "noisy episode" was taking place near Horse Guards Parade on Sunday.
LeBlanc also took to Twitter to post pictures from Westminster.
On Sunday morning Mr Osborne tweeted: "Trying to write my Budget, despite noisy episode of @BBC_TopGear being filmed outside on Horseguards Parade. Keep it down please @achrisevans."
He will deliver his eighth budget on Wednesday.
LeBlanc also tweeted he was "back at it this morning" and "just cruising around Parliament Square with a buddy."
The presenter and rally driver also gatecrashed a wedding at St Paul's Cathedral on Saturday.
The wedding party got a wave and a series of wheel-spinning "donut" manoeuvres from the duo in Block's 845bhp 4WD Hoonicorn Mustang.
The new series of BBC Two show is due to start in May.