Matthew Garnett: Teen who thinks he's in prison to be moved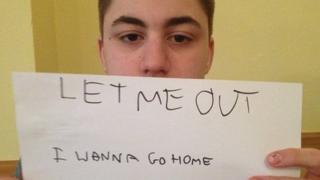 A teenager with autism who believes he is being held in prison after being sectioned will be moved to a specialist unit next week, a minister has said.
Matthew Garnett, 15, was removed from his south London home in September after attacking his father.
He was put in a unit normally for short-term emergency admissions, but after being there ever since his family has campaigned for him to be moved.
The minister for mental health has now said Matthew will be moved on Tuesday.
His parents, Robin and Isabelle, met mental health minister Alistair Burt on Tuesday when they handed a petition to him signed by more than 300,000 people calling for their son to be moved into a more appropriate care setting.
Mrs Garnett said: "Matthew's condition has deteriorated horrendously during his six months of 'incarceration'. I say incarceration because that is how it feels to him and us."
His ability to wash or dress himself has deteriorated and he had started ripping his hair out through anxiety that left him with wounds that became infected, she said.
He was also involved in a fight with a fellow in-patient over control of the computer gaming equipment and broke his wrist.
"Matthew processes light touch as pain and is reluctant to wear a cast because he finds it painful. He needs encouragement and support to wear his cast but he has not received this so he hasn't been wearing it and his wrist has become impacted, but hopefully now things will change," she said.
Alistair Burt, minister for community and social care, said he was grateful to Matthew's parents for their visit to explain their son's case.
"It is crucial children such as Matthew get the best possible care, based on the best clinical advice," he said.
"I recognise that this is not the final step in Matthew's care, but I'm pleased to hear that Matthew has been given a transfer date to move to Northampton where the specialist care he needs is available.
Matthew will be transferred from the psychiatric ward in Woking, Surrey, to St Andrew's Healthcare in Northampton, which specialises in treating patients with autism.
His parents hope that in time he will be able to receive care in the community and return home.