Transport Police Tube sex crime unit to be disbanded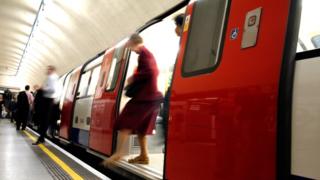 A specialist policing unit which investigates sexual offences on the Tube is to be disbanded, the British Transport Police (BTP) has confirmed.
The move comes at a time when the number of sex crimes reported on London transport has risen by over a third.
The BTP said the unit's members will become part of a "new operating model" to provide a "more effective approach".
A women's group said it was "disappointed" as investigations required specialist police.
The Sexual Offence Unit was set up to tackle crimes including groping on the London transport network.
'Dilute expertise'
Following a review, offences will now be investigated by all BTP officers rather than a specialist unit.
Assistant Chief Constable Mark Newton said the "significant expertise" accrued by the group's 23 members would be "captured, standardised and embedded" across the UK.
"Sexual offences will be investigated by any of the 269 officers dedicated to crime, nationally, enhancing our ability to investigate sexual offences", he said.
However, Sarah Green of End Violence Against Women (EVAW) said losing the unit would "dilute the expertise" required to tackle sex crime.
"Investigations don't work well unless you have that focus", she said.
Figures released recently showed that between April and December 2015, police received 1,603 reports, compared with 1,117 complaints in the same period the year before.
An internal risk assessment by Transport for London (TfL) has also suggested that the introduction of the Night Tube will lead to a rise in sexual offences on the Underground.