Protesters occupy Lambeth library in bid to halt closure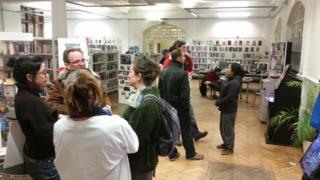 Protesters refused to leave a library in south London on the day it was due to shut for a year.
The Carnegie Library at Loughborough Junction is supposed to reopen as a "healthy living centre" under plans by Lambeth Council to generate savings.
Campaigners assembled on Thursday to mark its final day, but many refused to leave when it closed at 18:00 BST.
Lambeth Council said the protesters were "misleading" people as the library "is not closing for good".
Laura Swaffield, who chairs the group Friends of Lambeth Libraries, spoke to the BBC from inside the building and said around 80 people had stayed on.
"Some of us have sleeping bags and we intend to stay for as long as possible."
She said the people inside were "doing what we normally do in libraries - reflecting, reading, studying.
"There are three A-Level students here revising. They'll have nowhere to do it after these libraries go."
'Protesters misleading public'
Two libraries run by Lambeth - the Carnegie and the Minet Library - were shut on Thursday, but the council said both will reopen next year.
Describing the occupation as "obstructive", a council spokesman said: "These protesters are misleading residents and the public - Carnegie Library is not closing for good.
"The building will re-open to the public, for longer hours, in early 2017 and will have a neighbourhood library service, health and fitness facilities and space for community groups to use."
The council said libraries in Brixton, Streatham, West Norwood and Clapham will remain open, but Waterloo Library will move to the nearby Oasis Centre and Tate South Lambeth and Durning Library will be operational for the time being.
No libraries have closed in Lambeth since 2010, data revealed to the BBC found.
Over the same time period the number of paid staff fell from 143 to 113, while unpaid volunteers rose from zero in 2010 to 250.