Lambeth library occupation continues supported by community donations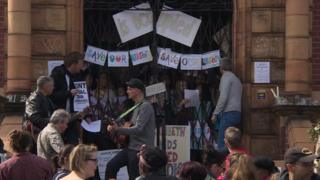 Children, mothers with babies and pensioners have been among protestors occupying a library since it was due to close on Thursday.
A group of around 40 people are living in Carnegie Library in Loughborough Junction, south London, as part of a campaign to keep it open.
Supporters have been proving food and bedding to those inside.
Lambeth Council says the Carnegie will only close for a year, before re-opening as a "healthy living centre".
It says the occupation is "obstructive" and "misleading" as the library's closure is only temporary.
Those occupying the library say they have been overwhelmed by offers of food, wine, bedding and messages of support from well-wishers.
Protestor Michaela Loebner, said there had been "extraordinary solidarity and support" from people outside the occupied library.
"We are being sustained by people in the local community," she said.
'A lot of guitar playing'
Teenagers Phoebe Griffiths and Greta Thompson have been occupying the library since Tuesday, despite having to revise for their GCSEs and A-Levels.
Greta told BBC London: " "On the day of the occupation I was working here, I was revising, and we decided to stay.
"We've got our own study room."
Phoebe said the pair had been sustained by "a lot of guitar paying and a lot of food".
Two libraries run by Lambeth - the Carnegie and the Minet Library - were shut on Thursday, but the council said both would reopen next year as "healthy living centres" under plans to generate savings.
Earlier a council spokesman said the Carnegie "would reopen to the public, for longer hours, in early 2017 and will have a neighbourhood library service, health and fitness facilities and space for community groups to use".
The council said libraries in Brixton, Streatham, West Norwood and Clapham would remain open, but Waterloo Library will move to the nearby Oasis Centre.