Government seeks answers over Carnegie Library closure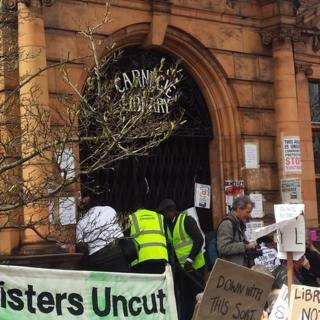 The government is seeking answers over the controversial closure of a south London library.
Protesters were evicted from Carnegie Library in Lambeth on Saturday after a nine-day occupation following the year-long closure of the facility.
The Department for Culture, Media and Sport's head of libraries has written to Lambeth Council after receiving complaints from local residents.
Simon Richardson said he will be asking for information about the closure.
The government can intervene and order a local inquiry if it thinks the council is failing to carry out its duties to deliver an efficient library service under the Public Libraries and Museums Act 1964.
In response, the council said it was "happy to provide...details of the measures".
Mr Richardson said: "It is for the council's elected members to decide whether or not to continue with the implementation of the changes to the library service, prior to the outcomes of the Secretary of State's consideration of the complaint and determination as to whether or not to order a local inquiry."
A spokesman for Lambeth Council said: "We would be happy to provide the DCMS details of the cost saving measures we have put in place to ensure Lambeth Libraries remain open during a period of unprecedented cuts to council budgets."