Police officer 'deliberately run over' by burglary suspect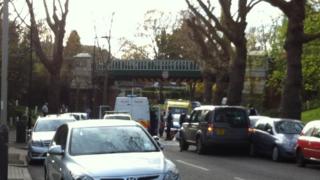 A policeman is in hospital after being "deliberately run over" by a suspect fleeing officers in south London.
Police stopped a Land Rover in Village Way, East Dulwich, which they believed was involved in a burglary.
When the officer opened the driver's door the car reversed quickly, taking the officer with him and crashing into other cars behind, the Met said.
He was taken to King's College Hospital with a suspected broken leg after the incident at 17:35 BST.
An officer at the scene told the BBC "one of the burglars ran over the officer deliberately."
A male passenger in the Land Rover was arrested and the driver fled on foot towards the train tracks at North Dulwich Station and remains at large.
Southern Railway said services were briefly brought to halt due a trespasser on the track outside of North Dulwich.