London mayoral candidate Zac Goldsmith criticised for 'Leicester piggybacking'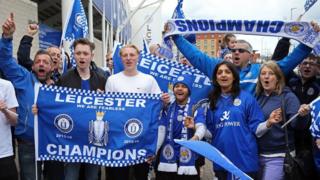 Zac Goldsmith has been accused of "piggybacking" on Leicester City's footballing success to boost his own campaign to be London's next mayor.
The Tory MP for Richmond Park was interviewed on LBC earlier and said: "I'm hoping to do a Leicester City and zoom in from behind and win on May 5."
Social media users said it showed he knew nothing about football and his comments attracted a lot of attention.
A fake tweet from the club rebuffing links with the MP was shared widely.
The false tweet was doctored to look like the club's official Twitter account had responded to Zac Goldsmith and read: "Cool story, but please take Leicester City Football Club's name out of your mouth. For the rest of your life."
Other social media users accused the MP of piggybacking on the club's success. One typical tweet reads: "Do shut up trying to score points on the back of Leicester's amazing victory. You probably don't know where it is."
Other users pointed out that Leicester had led the Premiership title race since 23 January, while some said that as the son of a billionaire he did not resembled an "underdog".
Mr Goldsmith's office was contacted for a comment but has yet to reply.
Mr Goldsmith also ran into trouble last week when he failed to name a single Bollywood actor or movie after telling a reporter at the Asian Awards 2016 how much he liked Bollywood.
However, he is not the first politician to slip up when it comes to popular culture, as this piece on why politician's shouldn't do quizzes shows.
A full list of the London mayoral candidates and their campaigns can be found here.