Plane stowaway died after fall, inquest rules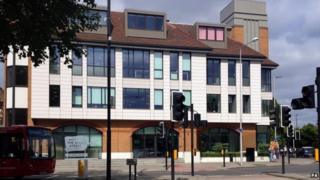 A stowaway died from multiple injuries after he fell 1,400ft (427m) from a plane preparing to land at Heathrow an inquest heard.
Carlito Vale, 30, was found in the air conditioning unit of the headquarters of notonthehighstreet.com on Kew Road, Richmond, west London, last June.
He had fallen from a British Airways plane which took off in Johannesburg, South Africa.
The 5,600-mile journey (9,012km) usually takes about 11 hours.
West London Coroner's Court ruled that his death was an accident.
There have been other cases where stowaways have fallen to their deaths in London after smuggling themselves onto planes and hiding in landing gear.
In September 2012, Jose Matada, 26, died falling from the undercarriage of a flight from Angola to Heathrow and onto a street in Mortlake, west London.
While in 2001, the body of Mohammed Ayaz, a 21-year-old Pakistani, was found in the car park of a branch of Homebase in Richmond.