CCTV cameras could be axed by Westminster Council to save £1.7m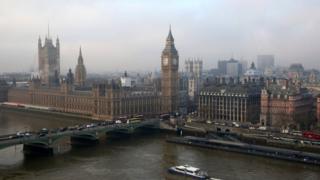 A London council says it may axe its fixed CCTV cameras in September to save £1.7m in upgrade costs.
Westminster Council says it is facing "significant financial challenges" due to reductions in central government funding and other cost pressures.
The authority claims there is only "limited evidence" fixed CCTV cameras prevent crime and disorder.
London mayor Sadiq Khan said CCTV was important to make people "feel safe" and "catch the bad guys".
'Ageing network'
He said he would look at what Westminster Council was saying and added he wanted to work with local authorities to "keep our city safe".
Westminster Council said it hoped a "pan-London" solution could be found, working with police, the Greater London Authority and other London boroughs.
The council's data shows the cameras are mainly used reactively to support police prosecutions rather than as a deterrent.
If the decision is taken not to upgrade the authority's ageing 75-camera network, the £1.7m saved would be used by the council for other crime-prevention measures such as better street lighting.
A decision will be made by Westminster's cabinet on Monday.