South West Trains employee suspended over 'vote out' sign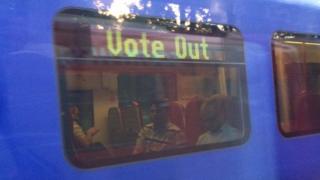 South West Trains has suspended an employee after a message appearing to support Brexit was put up on the side of a train.
The words "Vote Out" appeared on a digital sign on a train travelling from London to Woking on Monday.
South West Trains said the company had "no position" on the issue of the upcoming EU referendum.
It said any referendum message would have been put on without the company's knowledge or authorisation.
An internal investigation is to be carried out into the matter, the company said.
The in-out referendum on the UK's membership of the European Union takes place on 23 June.