Nude cyclists take in London landmarks on World Naked Bike Ride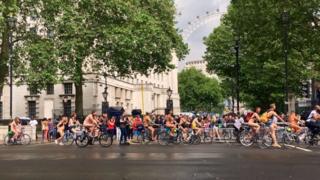 Hundreds of naked cyclists have taken to the streets of London to protest against car culture and oil dependency.
The cyclists pedalled past London landmarks including Big Ben, the London Eye and Piccadilly Circus as part of the World Naked Bike Ride.
The riders converged on Hyde Park Corner from six start points.
The annual event aimed to highlight the vulnerability of cyclists as road users and to celebrate the human body, organisers said.