Machete double killer victims Valerie Forde and daughter let down by Met Police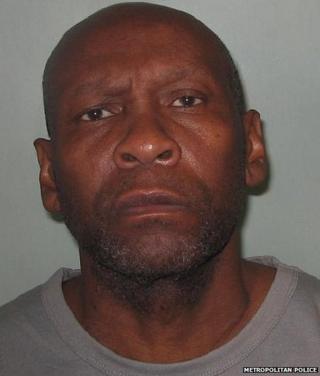 A woman and her 22-month-old daughter who were brutally murdered by her ex-partner were badly let down by the police, an investigation has found.
Valerie Forde, 45, was attacked with a machete and hammer at her home in Hackney, north London, by Roland McKoy. He slit their daughter Jahzra's throat.
Six weeks before, Ms Forde called the force saying he had threatened to burn down her house with them inside.
The police watchdog found the force dealt very poorly with this threat.
The Independent Police Complaints Commission (IPCC) said the poor handling was exacerbated by low staffing levels.
Two detective sergeants have been found guilty of misconduct for failing to adequately progress the investigation and for poor record keeping. They have been given written warnings.
A trainee detective constable was given management advice.
Police inaction
On the day of the murder in 2014, a civilian call handler failed to fully record and communicate critical information in the 999 call from one of the woman's daughters. The call handler was given management action for their poor performance.
IPCC Commissioner Mary Cunneen said: "It is hard to know if a more robust police response prior to, or on the day of, the murder would have saved the woman and her child, but police inaction helped ensure that they were left to deal with the murderer alone when the terrible events of 2014 took place."
The IPCC made a number of recommendations: welfare checks after the reporting of a threat had to include verbal contact with a victim; more detailed recording of incidents; recording of cases discussed at daily intelligence meetings and better resourcing of the domestic violence units according to demand
The IPCC's recommendations have been acted upon and a number of new measures introduced, including specialist training for officers and an increase in the number of officers and staff at the Community Safety Unit, the Met said.
Commander Lucy D'Orsi said: "I have apologised to Valerie's family for our failings during the investigation into the abuse that Valerie suffered.
"I cannot begin to imagine how difficult this time has been for Valerie's family and the impact it has had and continues to have upon them."
McKoy was jailed at the Old Bailey for a minimum of 35 years.
The brutal attack was heard by Ms Forde's 28-year-old daughter Carrise.
Hackney Council has published a Domestic Homicide Review which calls for the police to work closely with other agencies such as social services.