Passengers evacuate from American Airlines plane at Heathrow over 'smoke'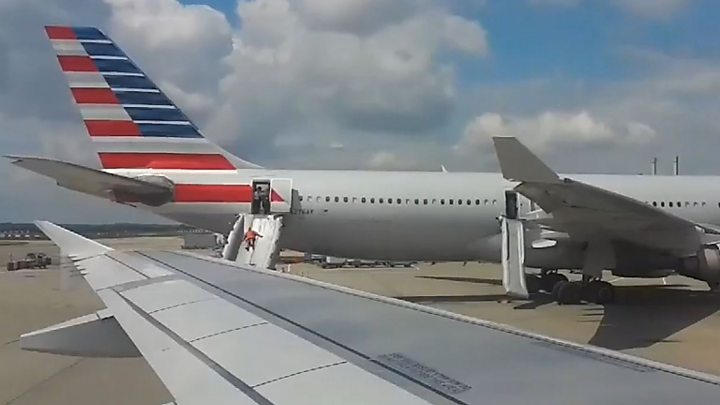 Passengers had to use an emergency slide to evacuate a flight at Heathrow Airport, American Airlines has said.
Smoke was found in the cabin of the London to Charlotte flight at Terminal 3 on Sunday morning. There were 277 passengers and 12 crew on board.
About 25 passengers used the slides but there were "no significant injuries".
A passenger on a flight from Helsinki, Ross Hiscock, said he saw "smoke coming from the tail-end of the plane" parked next to his and saw passengers escape.
American Airlines Flight 731 was subsequently cancelled and alternative arrangements are being made, the airlines said.
A Heathrow spokeswoman said a "technical issue" was identified and the problem was resolved.
'Lot of smoke'
Mr Hiscock, 28, who tweeted footage of the passengers leaving the plane using the slide, said fire crews were at the scene.
He said: "I saw a lot of smoke come out from the tail-end of the aircraft. I wondered if it was normal, whether it was just exhaust fumes.
"Then the door opened on the right side of the aircraft and crews deployed slides from the rear and the middle of the plane.
"Next we wondered whether it was a drill, but then we saw they were real passengers. I saw at least one carrying a child.
"It all happened in a matter of seconds. Everyone seemed to be OK."
A statement from American Airlines said: "American Airlines Flight 731 London-Heathrow (LHR) to Charlotte (CLT) experienced smoke in the cabin while still on the ground in LHR.
"Three slides were deployed on the aircraft and approximately 25 passengers deplaned via the slides.
"The rest of the passengers and crew safely deplaned via the jet bridge.
"A small number of the passengers and crew are being seen by medical personnel but no significant injuries have been reported."