'Nuisance' supercar drivers targeted by police in Kensington and Chelsea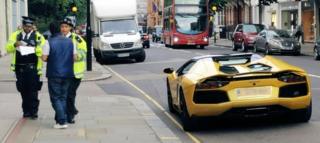 Supercar drivers who endanger safety could be arrested and their cars could be seized, say police in Kensington and Chelsea.
Residents have long complained of "reckless and aggressive" behaviour by drivers of high-performance cars during the "supercar season" summer months.
The council has introduced a "supercar Asbo" to give police new powers to move on suspected noisy or reckless drivers.
Those who do not comply face possible arrest and their cars being seized.
On Thursday 16 dispersal orders and seven tickets were given out by police to drivers in the west London borough.
Drivers are banned from revving engines, repeatedly accelerating rapidly, racing, performing stunts, sounding horns, playing loud music or driving in convoy between 12:00 BST and 06:00 BST.
Police said in previous summers there had been "large numbers of complaints" from people living close to Sloane Street, Sloane Square, Brompton Road and Kings Road about drivers revving their supercars' engines to the cheers of spectators into the early hours.
Spectators who film and encourage drivers to commit even more reckless acts will also be covered by the new police powers.