Mustard School head barred after hitting five-year-old pupil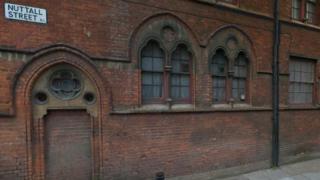 The former head of an independent school in Hackney has been permanently banned from teaching after hitting a five-year-old pupil.
Amos Johnson, 58, and Faith Johnson, 48, ran Mustard School, a mixed Christian school which taught up to 44 children from two to 14.
It closed last year after Hackney Council received allegations of physical chastisement.
A series of Ofsted inspections had deemed the school 'inadequate'.
The professional misconduct panel found Mr Johnson had "violated" his position of trust.
Faith Johnson, the school's proprietor, has been banned from teaching for at least three years.
'Deep-seated attitude'
Mustard School was opened in 1997 to "educate children with sound academic standards and in the way of the Lord".
It charged annual fees of £3,060.
Nearly all the 13 pupils on roll in 2014 were of black African heritage.
The panel at the National College for Teaching and Leadership found Mr Johnson had hit one or more pupils "on one or more occasions" and failed to ensure an adequate teacher-pupil ratio, or that his staff were properly qualified.
Pupils did not have the resources they needed and he and Mrs Johnson had not ensured the playground was safe.
The panel expressed concern they did not acknowledge the seriousness of their actions.
Mr Johnson "retains a deep-seated attitude towards controlling behaviour of pupils which is harmful; in particular it was concerned about his justification for chastising a 5-year-old pupil physically," said the report.