No further action over Mohamed Al Fayed rape claim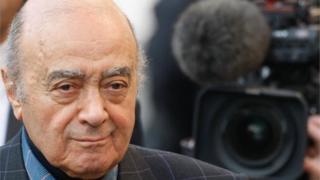 No further action will be taken over a historic allegation of rape made against former Harrods owner Mohamed Al Fayed, the Crown Prosecution Service (CPS) has said.
A complaint was made against the businessman in 2013 and investigated by the Metropolitan Police, but no action was taken.
It was reassessed in February 2015 after new information was received.
Mr Al Fayed, 86, had previously denied the allegations.
A spokesman for the Metropolitan Police confirmed it had investigated the original allegations against Mr Al Fayed and submitted a file to the CPS, which had decided to take no further action.
The billionaire also formerly owned Fulham Football Club, among several other business interests.
He currently owns the Ritz hotel in Paris.