Gang steals £21,000 after Balham Waitrose scam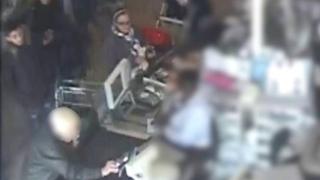 A gang of thieves spent a widow's life savings on six cars and fast food in a one-day spree after obtaining her Pin code as she shopped at a supermarket.
They watched the victim enter her code as she paid for her shopping at the Balham High Road Waitrose store.
And when the 86-year-old left, one man distracted her by pretending to be lost while another person stole her card.
Scotland Yard said the gang managed to spend £21,000 before the card was reported missing the following day.
Police, who have been unable to find those responsible, have only now sought the public's help to solve the crime, which happened at the supermarket in Balham on 17 March.
"The money was the victim's life savings that she was keeping for her grandchildren," a police spokesman said.
As well as buying food and six second-hand cars, the gang used the card to withdraw cash and purchase clothing.
Two men and one woman were captured on CCTV watching the victim as she entered her Pin when paying for her shopping.
They have been described by police as a woman aged in her 40s, a slim man of south Indian origin in his 20s wearing a fur lined hooded jacket, and man of Middle Eastern or Eastern European origin of medium build wearing a hooded top and aged in his late 30s.
The Met have appealed for anyone who recognises any of the suspects to contact them.